Great Neck, NY – July 21, 2021, The Brazilian Patent Office – On July 20, 2021, granted patent number BR112019009062-2 to Tecnica for its laser print head system.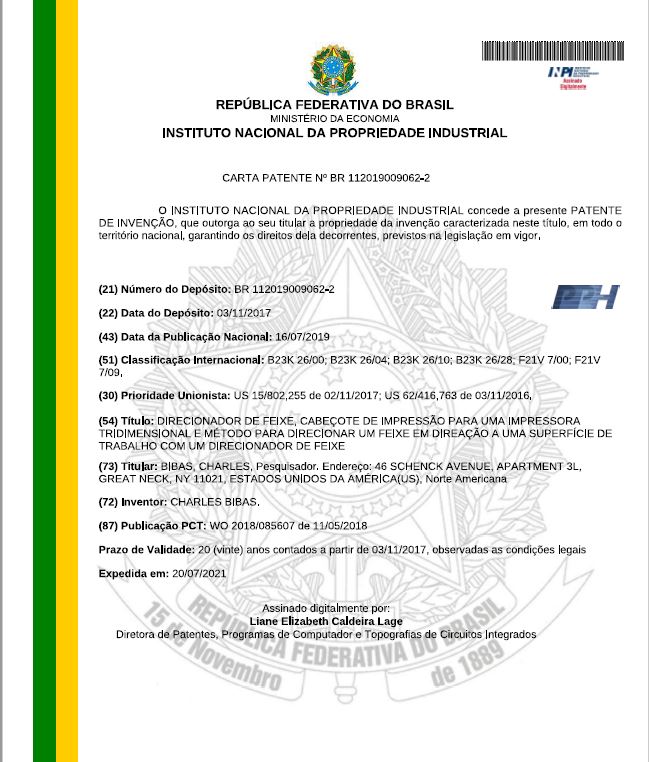 The patent further secured Tecnicas' Intellectual Property worldwide. The new printing method will help produce inexpensive and fast SLS/SLM printers. Tecnica is breaking away from the 40-year-old technology used by traditional 3D printer manufacturers. Tecnica developed a printer that blows the competition away by filling the vast price void created by the other 3D printing companies. Offering a professional-grade SLS 3D printer at a starting price point below $50,000.
Charles Bibas, CEO at Tecnica and Lead Project Engineer explains; "The new Patent enables us to produce improved Optics for delivering a pinpoint precision. This is not only a Patent, as we have also tapped into unchartered territory where SLS/SLM process is misunderstood. We are bringing a fresh approach to solving SLS/SLM issues such as thermal stability and elimination of support material where our technology is addressing by physics-based analysis prediction and not an expensive numerical simulation analysis with multiple unknown parameters. We can make such assertion as we reduced the number of the unknown parameters, therefore, simplifying and stabilized the system.
Press@tecnica.com